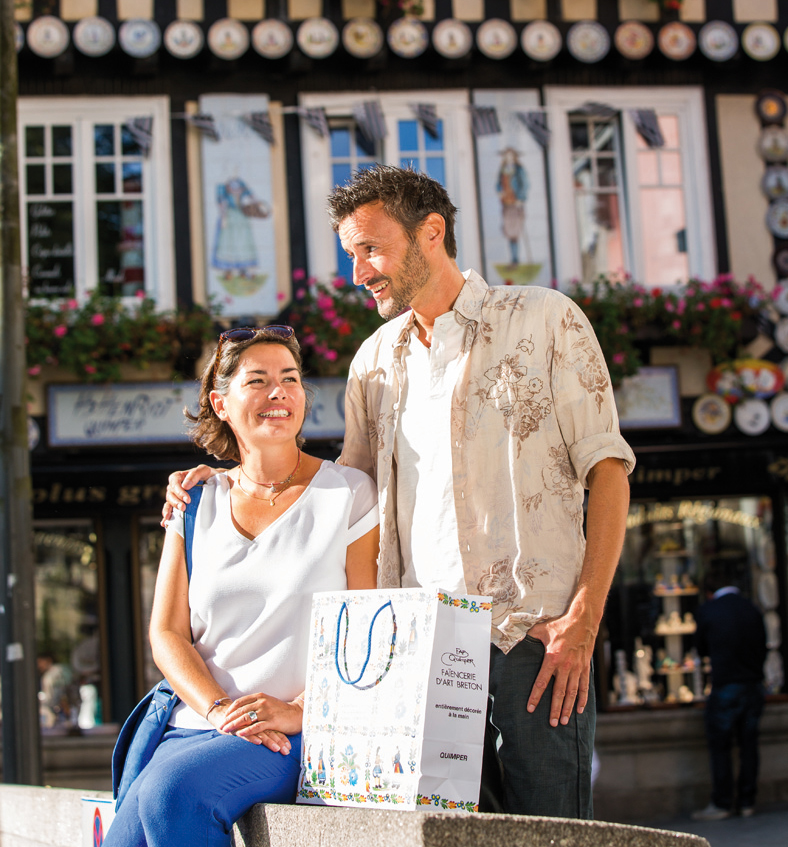 Make the most of your stay in Quimper to discover Art de Cornouaille
Located opposite the cathedral, the Art de Cornouaille shop offers a wide range of Quimper earthenware, souvenirs and regional products.
You will find the best of Breton productions such as Breton cakes and palets, whiskies (exclusively Breton), including the famous EDDU buckwheat whisky, and many typical Breton spirits such as pommeau, cider and chouchen.
Art de Cornouaille is full of treasures to take home or to give as gifts, such as a large choice of tea towels decorated by local designers (including Sophie C.), the Mam Goudig with bowls, mugs, breakfast sets...
New in 2017, the opening of a large section of Breton groceries with the inevitable Henaff These include pâté in tins, of course, but also terrines, jars, salted butter caramels and other delicacies.
At the Art de Cornouaille shop, you will find the essential gift when you come to Brittany: the NAME BOWL.
With 4 exclusive designs in Quimper, Art de Cornouaille dresses your famous ear bowl with your first name, in the colours of Brittany.
With more than 5000 references directly in stock, you will certainly find yours.
Here you have the guarantee of the ORIGINAL version of the name bowl, since 1947 with its handwriting.
You don't know the Breton NAME BOWL? No way. Discover it in the video!