In June, the Locronan Tourist Office is open Monday to Saturday from 10am to 12.30pm and from 1.30pm to 6pm; Sundays from 10am to 1pm.
You can also contact us by e-mail at infos@locronan-tourisme.bzh or by telephone on 02 98 91 70 14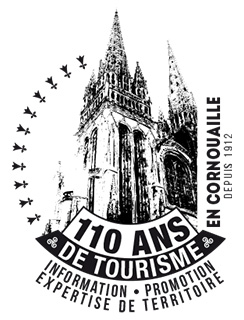 Welcome in Locronan,
small city of character.
Classified as a Historic Monument since 1924, Locronan is one of the most prestigious sites in Brittany, due to its architectural quality. Numerous art craftsmen have settled there. Situated on a mountain, in an exceptional natural setting 5km from the sea, Locronan is also the starting point for many walking and mountain bike trails. A true land of inspiration for artists, painters, writers, sculptors or film makers, the charm of this small Breton setting never leaves you indifferent.
Register

Baradoz exhibition: "4 Seasons 4 Amzer

Baradoz exhibition: "4 Seasons 4 Amzer For its major summer exhibition, the École de Broderie d'Art is setting to the rhythm of Nature, offering a journey through the company's archives, through the prism of the seasons. The theme of the Haute-Broderie collection marking Pascal Jaouen's departure as director was the Four Seasons, their colours, the sensations they provoke, and change... See the latest creations exhibited alongside outfits from previous collections.

Location

École de Broderie d'Art - Baradoz, 16, rue Haute - Locmaria - 29000 Quimper

Time

From Tue 4 Apr 2023 to Sun 9 Jul 2023

Exhibition "Marjatta and Jean-Claude Taburet, from Celtic legend to Finnish delicacy

Exhibition "Marjatta and Jean-Claude Taburet, from Celtic legend to Finnish delicacy In 2023, the museum invites you to retrace the career of an iconic Quimper earthenware couple who are the heirs and renovators of the long Quimper tradition. Marjatta Taburet, originally from Finland, has never ceased to mix Nordic influences and sagas with Breton legends and landscapes. A ceramist and painter, she joins, with her husband, the closed circle of painter-fairies, which is made up of a...

Location

Musée de la Faïence, 14, rue Jean-Baptiste Bousquet - 29000 Quimper

Time

From Tue 11 Apr 2023 to Sat 30 Sep 2023

From beast to garment - Temporary exhibition

From beast to garment Temporary exhibition at the Musée Départemental Breton Quimper The animal part of Breton clothing is not immediately obvious. However, the animal is hidden behind materials, patterns, symbols and even the vocabulary associated with the costume. A cheerful bestiary is thus summoned where common Breton animals such as sheep, pigs, roosters, sardines and other beavers mingle with much more exotic species such as camels, emus, silkworms or whales...

Location

Musée départemental Breton, 1, rue du Roi Gradlon - 29000 Quimper

Time

From Fri 2 Jul 2023 to Sun 31 Dec 2023

Salon des Artisans Couteliers

Salon des Artisans Couteliers    

Location

Salle l'Arpège, Rue du Stade - 29180 Plogonnec

Time

Sat 10 Jul 2023 from 9:00 to 18:00

Exhibition: La Bohème, Toulouse-Lautrec and the Masters of Montmartre

Exhibition: La Bohème, Toulouse-Lautrec and the Masters of Montmartre 29 June - 15 October 2023 This exhibition project highlights the rich graphic arts collections of the Ixelles Museum, currently closed for renovation. This collection offers a beautiful overview of the graphic work of the most talented artists of the late 19th century. These include Henri de Toulouse-Lautrec, Théophile Steinlen, Alphonse Mucha, Eugène Grasset and Jules Chéret, all of whom excelled in the field.

Location

Musée des beaux-arts, 40, place Saint-Corentin - 29000 Quimper

Time

From Thu 29 Jul 2023 to Sun 15 Oct 2023